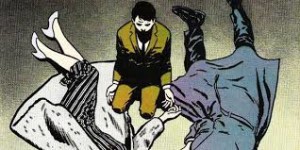 Every superhero that I can think of has a broken past. Batman's parents were killed in front of him. Superman's whole planet, parents included, exploded and he was the only survivor. Spiderman lost parents and then his Uncle Ben. While there may be a rare superhero that comes from a perfect, Norman Rockwell past, tragedy is a part of the past for most of our superheroes.
In many of these cases, the tragic past is a part of how they gained powers in the first place. Or the tragedy is an impetus to the mission (Bruce Wayne refusing to use guns but fighting crime in the streets, overcoming his fears by becoming something to be feared – as an example). Perhaps the tragedy is one of their own failing.
Either way, a major theme in the superhero journey is overcoming a tragedy in his or her past. In order to be a superhero, they must deal with the tragedy to move forward to saving people and the world.
Superhero Christians are the same. We all have a broken past. Whether loss and grief or abuse or our own failings (sin), we have reason not to believe we can be a superhero.
Within these tragedies, we feel or felt powerless. And that powerlessness begins to define us.
Our Western culture is increasingly offended and victimized. We feel we have power or excuse when we are victims, when we are offended. We can fix blame upon others, give reasons why we can't move forward, and then feel justified in wallowing.
I'm not, in any way, saying that grief is stupid or that tragedies aren't supposed to hurt. Or that our failings weren't valid weaknesses on our part. The tragedy is compounded, however, when we allow these offenses or crises or tragedies to keep us from using our spiritual superpowers and being the Christian superheroes we were designed to be.
We were not designed to be offended, to be victims. We were designed to have purpose, to save the world. When we embrace our purpose, often in spite of our broken past, we find the most fulfillment and motivation.
In other words, when we step out in our gifts to serve, to give, to save, to heal, we are who we were born again to be. And there is great fulfillment in that.
Superheroes don't deny the tragedy or the weakness or the broken past. They acknowledge it and deal with it, and they don't let it keep them from moving forward and trying to use their super powers again.
Because there are people that needs saving. There is a world that needs us.
Peace.